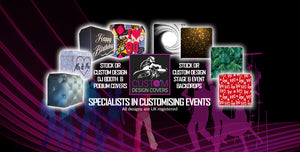 WELCOME
Welcome to Custom Design Covers, the leading provider of DJ booth covers for all your event needs and more. Founded in 2021, our company has deep roots in the event industry, with a wealth of knowledge gained through owning two successful event companies.
With our extensive experience in designing and manufacturing props, we identified a gap in the market when it came to DJ booth covers. Many professional DJs were struggling to find covers that could adapt to their unique, special, and themed events. That's where Custom Design Covers comes in.
Through research, we have sourced the highest quality materials to ensure our products meet the highest standards while remaining affordable. Our mission is to offer DJs the widest range of booth covers, catering to any theme or event. Whether you're throwing an 80s party, a birthday celebration, or a wedding, we have the perfect booth cover for you.
Currently, our covers are specifically designed and manufactured to fit Equinox and Gorilla booths and many other brands. Rest assured that no matter what booth you have, we are committed to providing you with the ideal cover to elevate your performance and enhance the atmosphere of your event.
At Custom Design Covers, we understand the importance of standing out and creating a memorable experience. Our lycra DJ booth covers are meticulously crafted to ensure a perfect fit, sleek appearance, and durability. With our covers, you can transform your DJ booth into a visually captivating centrepiece that complements your event's theme seamlessly.
Choose Custom Design Covers for top-quality DJ booth covers that not only protect your equipment but also elevate your DJing experience. With our wide range of designs and commitment to excellence, we are the trusted choice for DJs looking to add that extra touch of professionalism and style to their performances.
Contact us today and let us help you find the perfect DJ booth cover to make your event truly unforgettable.
We also provide:
Pop-Up DJ Pods
DJ Facades
DJ Podium Lycra Covers
Wedding Plinths
Photo Booth Backdrops
Lycra Table Covers
Chair Covers
Pop-Up Event Tables
Venue Decor
THE PRO ALPHA DJ POP-UP POD
We here at Custom Design Covers have put our vast knowledge
and experience to good use by creating The Pro Alpha DJ Pop-Up Pod for mobile
DJ's. We understand that time is everything when setting up and packing down
and more time than most space is everything. The Pro Alpha DJ Pop-Up Pod sets
up and packs down in a matter of seconds, no bolts or fixings required. It
comes with high tension plain black and white lycra fabric covers and without a
doubt is seriously easy to apply. This product would enhance your look and was
created for the wedding DJ or a DJ that works all types of events.  
The Pro Alpha DJ Pod is certainly the way forward with its professional
look, lightweight but durable for mobile DJ's. This outstanding bit of kit is
easily stored and can easily fit into the boot of a car for transportation and
can be carried in all its glory in the travel bag that is provided for
protection.
We understand that DJ branding is everything so we are also
able to provide our custom design service where you can create your very own
brand for your DJ pod, our outstanding team is more than prepared and equipped
to answer any enquiries you have.      
SHOP EVENTS & PRODUCT LAUNCHES
Not only have we now worked with hundreds of DJ's from the UK, we have also shipped our products are far as Australia, Florida, Canada and very excitingly Amsterdam in preparation of a product launch for Karl Lagerfeld. We are always available and interested in working with companies and brands for events such as product or even store launches.Our fully customisable products from DJ Booth Covers to Backdrops are the perfect addition to any event. Our existing customers regularly make reference to the comments and feedback that they receive about the products that they have ordered from us whether that be custom or not and what an impact theor products have had on the events that they have undertaken. If you have a product launch or event coming up, please do not hesitate to get in touch and our team of dedicated advisors will be on hand to assist you. 
Testimonials
Got my Custom Design cover for my combi booth, really impressed with the quality, I'm a resident DJ in pubs an makes my dj booth look really professional… From ordering an confirming my design only took just under 4 wks to come… looks good with the uv lights also…

DJ P
Fantastic company with excellent communication…. I've ordered 4 DJ booth covers so far and they are of superb quality and make your console stand out from the rest.

Daniel Carey
THESE GUYS I WOULD HIGHLY RECOMMENDED MY DESIGN I WANTED FOR MY DJ KARAOKE LYCRA COVER WAS SPOT ON .THANKS JAMIE

Baz Crown
Great service, Excellent communication, Great product. Bought two DJ booth covers , will buy again

Martin Todd
Was asked to come out of retirement to run my 80s video disco again. Saw the 'I Love The Eighties' scrim and knew I had to get one to set the front off nicely. Used regularly, it's hard wearing with no rips etc. machine washable too with no colour fade. Been asked by other DJs where I got it from.. Now looking to get a custom one done.

Peter Harden